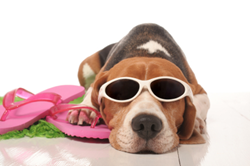 Dallas, TX (PRWEB) May 30, 2014
After being in business more than 20 years, Park Cities Pet Sitter President, Joette White, is well aware that her staff needs to be especially watchful of the pets under their care during the hot summer months in Texas. With average high temperatures in Dallas in the high 90s and low 100s every summer, there are potential health dangers to the pets they care for from the excessive heat and humidity.
Many pet owners are simply unaware of the impact heat has on their animals. While humans cool down by sweating from numerous areas on their body, dogs and cats have very few sweat glands. Their primary ways to sweat are from their paw pads and nose. When a dog is getting hot, you will often see it open its mouth and begin to pant, because they are trying to breathe more quickly to help cool their body down. Breathing more quickly forces a dog?s heart and lungs to work more strenuously. This extra pressure on the heart and lungs can be especially impactful to elderly pets. Similarly, brachycephalic dogs?those with short or ?pushed in? snouts, like boxers, pugs, and bulldogs?are especially susceptible to breathing issues in hot temperatures because their shorter nasal passages don?t allow them to breathe more quickly very easily, so it?s harder for them to cool themselves down.
Park Cities Pet Sitter has many midday dog walk clients who pay for their dog to receive a midday walk and a bit of exercise, so Ms. White cautions all of her sitters to watch for these signs and to take these precautions during the summer months to ensure the safety of the animals in their care:
1)