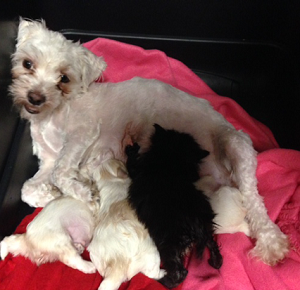 Roadhouse, a tiny black kitten, was miraculously found on the streets of New York City and brought to the Animal Haven shelter.
The kitten was so young that she wasn't weaned yet. The concerned staff at Animal Haven tried to give Roadhouse a bottle with formula, but Roadhouse wasn't interested.
The staff came up with an idea. One of their newest shelter residents, Coco the Maltese, had just given birth a short time before Roadhouse arrived. Coco was nursing her three puppies…maybe she would allow Roadhouse to nurse along with them.
Click here to read the complete story.