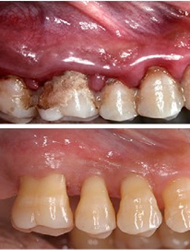 Los Angeles, CA (PRWEB) September 25, 2014
With the recent media attention on gum disease and toothpaste, as seen in ABC's September 15 account of the recent Crest toothpaste issue, leading Los Angeles periodontists are emphasizing an important study explained by the American Academy of Periodontology earlier this year about nonsurgical periodontal therapy for those with type 2 diabetes. The study found that the therapy did not actually cure the disease in diabetic patients with moderate to advanced periodontal disease. Periodontal disease, or gum disease, is when bacteria builds plaque below the gum line. Pain isn?t usually felt with periodontal disease until it?s in its advanced stages where much of the damage to gums and teeth has already been done. Damaged gums and teeth can eventually lead to tooth loss.
Dr. Alexandre-Amir Aalam of the Center for Advanced Periodontal & Implant Therapy said, ?In its early stages, periodontal disease may display few, if any, signs. Brushing alone cannot remove the bacteria that cause gum disease. We recommend brushing twice a day, flossing once a day, and visiting a periodontist annually to help prevent and diagnose periodontal disease.?
Gum disease often occurs in individuals who have poor oral hygiene and smoking is also a significant risk factor in developing the disease. Advanced periodontal disease has been shown to play a role in other health conditions like cardiovascular disease, rheumatoid arthritis, Alzheimer?s disease and diabetes. With periodontal disease on the rise, now more common than diabetes, early detection and treatment is of the utmost importance.
?Gum disease is quite common, but many people don?t know about it. It can affect not only the health of your teeth and gums, but also the appearance of your smile,? said Dr. Alina Krivitsky from the Center for Advanced Periodontal & Implant Therapy. ?Most people aren?t aware that the mouth plays a key role in the health of the rest of our body and can seriously affect and progress other diseases that we might have, including diabetes.?
The study showed that people who had diabetes and gum disease were treated with nonsurgical methods, but found that these methods did not change their glycemic control. It was the same as those not treated which shows that nonsurgical treatments are not affecting diabetic patients and the periodontal disease was not successfully controlled.
?This research helps periodontists know the best treatment for our patients with diabetes so that they can receive the appropriate treatment to cure their periodontal disease,? continued Dr. Aalam. ?This is why it is so important that people who have diabetes see a periodontist each year so we can give them the specialized care that they need to stay healthy.?
Dr. Alexandre-Amir Aalam and Dr. Alina Krivitsky are board certified periodontists specializing in dental implants and gum and tissue diseases. They opened The CENTER, a periodontal office focused on providing patients with excellent and skilled care at affordable prices, with the goal of restoring oral health and aesthetic appearance. They are alumni of the prestigious Ostrow School of Dentistry at USC and are still heavily involved in academia and giving back to future periodontists at USC. They are also the only two board-certified periodontists in the Brentwood area of Los Angeles.
If you or someone you know is interested in scheduling an appointment with the CENTER for Advanced Periodontal & Implant Therapy, we encourage you to contact (310)-826-8242 today.
Learn more at http://implantperiocenter.com.