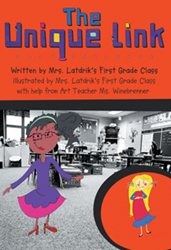 Indianapolis (PRWEB) May 27, 2014
A first-grade class has entered the world of publishing, creating an illustrated children?s book with a lot to say. ?The Unique Link,? the brainchild of Liberty Park Elementary School teacher Sarah Latdrik and her 24 students, was published earlier this year by Dog Ear Publishing, which offered its services for free. In the story, a first-grader named Lexie loses her confidence and tries to blend in. After some mishaps and unlikely allies, Lexie learns its best to be herself.
Dog Ear and Latdrik paired up last year as part of a two-year writing workshop at the school. Latdrik was teaching kindergarten and had students Skype with mentor authors such as Todd Parr (author of ?It?s OK to be Different) to learn how everyone is unique and should be proud. Students also heard about ?change makers? like Martin Luther King Jr. and Helen Keller. Latdrik thought her students would benefit from learning more about the publishing process after working very hard in the writing workshop, and a Dog Ear employee spoke to the class.
That employee was ?was blown away by the students? complex understanding of the writing process,? discussing subjects like dialogue and writing strategies, said Miles Nelson, Dog Ear co-founder. Latdrik said her students ?did a great job? showing what they had learned about books and the writing process, and she expressed an interest in working with the company to produce a book. ?Dog Ear wanted to help the students become real, published authors,? Nelson said.
Earlier this year, that goal became a reality. Latdrik moved up with her kindergartners in the fall, becoming their first-grade teacher, and they began working on the book. The process began with brainstorming characteristics for the characters, visualizing what they might look like and talking about the book?s message. They built a storyboard to combine their ideas on Post-It notes into a story and talked about character development. Eventually the students told oral versions of their story and Latdrik wrote down their words, adding transitions where necessary.
Students took just as much care in creating the book?s illustrations, accomplished with help from art teacher Abby Winebrenner. Background photographs were taken at Liberty Park and Winebrenner?s apartment, inspired by the work of mentor author Mo Willems, who illustrated ?Knuffle Bunny? and ?The Pigeon Needs a Bath.?
The first-graders discussed the main characters, such as skin color and the impact it might have on the story, as well as face shapes, and Winebrenner sketched them. Students voted on the ones they liked and drew in the faces based on the characters? emotions. They also drew self-portraits, which appear on the final pages. The drawings were scanned and digitally added to the bodies for the book.
?What an awesome and enriched collaboration our illustrators were able to experience,? Winebrenner said, adding that she simply helped tighten their ideas and help turn them into specific physical characteristics, such as their hair and the size of their smiles, helping Samantha and Lexie come to life on paper.
The students? dedication to the project shows. ?You can really tell that Mrs. Latdrik?s students worked very hard to put this book together,? Nelson said. ?These young first-graders shared the same passion that our more seasoned authors have for their writing. It was wonderful to see such excitement and the pride these young children had in the book.?
Their teacher is thrilled with the results. ?I hoped for this project to help them see what we have learned as readers and how we can try out these things as writers ourselves,? Latdrik said, adding that she works to teach students about respect, civility and peace. ?This project has given me a new sense of confidence that they are soaking it in. They are growing and changing through our experiences together, and this confirms my greatest hope that they will change the world with their ?big words.? ?
Parents seem equally excited about the book. ?I especially love the creativity and care that was taken to develop the details around this story,? said Rebecca Johnson. ?It is a great book to teach children that who they are is really unique and being unique is wonderful.?
?I felt like I was looking through the eyes of first-graders, feeling how they feel,? said Jennifer Courtney. ?I also loved the cartoon pictures as well as real pictures from the school. The children did an amazing job on the story, and I really felt like they were writing about their own unique experiences.?
Nikki Jackson spoke about the project?s ripple effect. ?I?m very happy my son was able to contribute to writing this book. It expanded his learning opportunities and helped shape the person he is.?
Students? thoughts about ?The Unique Link? ranged from how fun the project was to the experience of working together. ?I liked when we had a family pizza party and brainstormed our title with our families,? said Raven. ?I liked when we were making the funny pictures,? Keith said. ?It was hard to patiently wait for the book to be printed,? said Claire. Syniah liked ?when the books came in the mail and we saw them for the first time.?
Latdrik said she would consider doing another book if future classes have something big to say, and Nelson said it meant a lot to see an educator so dedicated to inspiring her students to do big things. ?We were happy to be part of this project,? he said. ?This was an absolute, heart-warming success, and we?ll attempt to share our experience with other teachers and schools.?
The book, which costs $ 9.95, is available Amazon.com, BarnesandNoble.com, and fine bookstores everywhere.
———-

For additional information, please visit http://www.dogearpublishing.net.
About Dog Ear Publishing, LLC

Dog Ear Publishing offers completely customized self-publishing services for independent authors. We provide cost-effective, fast, and highly profitable services to publish and distribute independently published books. Our book publishing and distribution services reach worldwide. Dog Ear authors retain all rights and complete creative control throughout the entire self-publishing process. Self-publishing services are available globally at http://www.dogearpublishing.net and from our offices in Indianapolis.
Dog Ear Publishing ? self-publishing that actually makes sense.