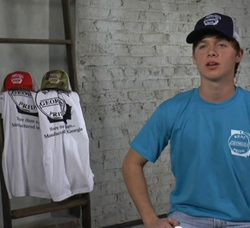 Lawrenceville, Georgia (PRWEB) November 14, 2014
Real Georgia Pride is the brainchild of teen entrepreneur Wesley Moss of Lawrenceville, Georgia. Currently selling T-Shirts displaying the brand name, Moss hopes to soon offer a full line apparel that highlights state pride including hats and a variety of other outerwear.
?So many folks brag about being a proud Georgian but do little to prove it. There is a huge trend now to show pride in our state by showing off a cute logo on overpriced clothes that were made in other countries. This doesn?t seem like genuine pride to me,? said Wesley Moss, a high school junior in North Georgia. As the creator of Real Georgia Pride., Moss stated, ?I decided to put my money where my mouth was and partnered with a couple Georgia manufacturers to develop this brand and offer products that are 100% Made in Georgia and grow Georgia jobs.?
Moss? goal is to use his made in Georgia product to ignite a sense of pride in those who choose to wear it and everyone they come in contact with. He will feature historical information and other Georgia facts on his t-shirts and other products. Moss learned all about manufacturing from his father Jason Moss who is the founder of GMA.
The Real Georgia Pride products are made in factories across Georgia.
This Saturday, November 15th at 10 a.m. Georgia residents have the opportunity to meet Wesley Moss and buy a Real Georgia Pride T-Shirt at a special price that?s made in Georgia. The event will take place at Mint Julip Shops, 5965 Cumming Highway, Suite 760, Sugar Hill, Georgia 30518.
?I am proud to support Wesley and his vision. He understands the impact that buying locally made products has on creating local jobs. It is amazing that a 17-year-old has chosen to create something that can make a difference and leave a legacy,? said Jason Moss. ?The Georgia Manufacturing Alliance is 100% behind him.?
For more information visit, http://www.realgeorgiapride.com.
More Mouth Press Releases