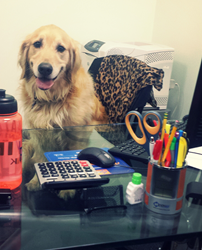 Markham, Ontario (PRWEB) December 03, 2014
This November, CDI?s Bring Your Pet to Work policy, ?Pet-Friendly Fridays? hit a milestone of five years since implementation. Employee demand for workplace flexibility has been on the rise in recent years, as nearly 70% of U.S. workers report feeling a strain in their work-life balance. Many of these demands involve the desire for a more comfortable workplace, and CDI has responded by gladly allowing employees to bring their biggest comforts from home?their pets?to work every week.
Pet-Friendly Fridays became a CDI staple five years ago when its Vice President, Gal Pikar, brought his dog into the office, and soon, other dog owners were being encouraged to do the same. The company purchased food and water bowls for each pet to make them feel at home. When CDI regularly had a few dogs coming in every Friday, the tradition took flight. Over the years, in addition to dogs, CDI has welcomed the odd rabbit, lizard, and even a shark that makes its home in a small aquarium in the company?s accounting department.
?I thought Pet-Friendly Fridays would be a bonus for me, but after a year of bringing in my dog, I have realized that others benefit from it too. I see the joy in their eyes when they pat my dog, or when she goofily runs toward them in eager anticipation?, says one CDI employee.
Studies show that pets in the workplace can help manage stress levels, increase job satisfaction and productivity, and vastly improve office relationships. On Fridays at CDI, employees can be seen greeting the friendly canines around the office. In a way, these pets have given CDI countless ?water cooler? moments, as they provide employees with a chance to walk away from their desks and strike up a conversation with a coworker, while entertaining the newest furry, fluffy, or even scaly addition to the CDI family.
?Pets at work sounds right. There was no real thought involved in the process; we simply said yes.? states CEO Saar Pikar. He adds, ?When I finally retire, this is going to be one of the highlights of my career?it is that much fun.?
No pet-friendly environment would be complete if the pets weren't having fun too. Dogs are encouraged to play with each other, and if a pet is brought into the office, their human companion will always be close by. ?When I bring my dog to CDI, she offers wonderful stress relief and good emotions throughout the day,? another employee says. ?During her exercise break, I enjoy watching her bounce with happiness outside the building. One can?t help smiling and being in better spirits when back in the office.?
About CDI

Headquartered in Markham, Ontario, CDI is the leading refurbisher and remarketer of enterprise-grade I.T. hardware in North America. CDI delivers a powerful value proposition to budget-conscious government-funded institutions and private organizations by providing ?CDI Certified? products at a significant discount to the cost of new equipment, along with the longest warranties in the industry. CDI?s product line includes PCs, notebooks, tablets, servers, telecommunication and other technology equipment. The company holds ISO 9001:2008 and ISO 14001:2004 certifications, and processes more than one million I.T. assets annually. CDI has over 400 employees and relationships with more than 10,000 education, government, healthcare and private clients across the United States and Canada. For more information on CDI, please visit the company?s website at http://www.cdicomputers.com.
Find More Dog Smile Press Releases