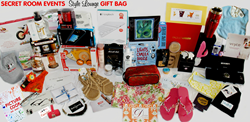 Beverly Hills, CA (PRWEB) August 21, 2014
On Friday August 22nd 2014 Secret Room Events will host the Red Carpet Style Lounge, an extravagant invite only gift and beauty services lounge in honor of the 66th Primetime Emmy Awards and benefitting The Humane Society of the United States and The Shelter Pet Project. Many celebrity nominees, presenters and other talent as well as media, press and bloggers are set to attend this lavish event where guests will be introduced and gifted exciting new products and services. The Red Carpet Style Lounge will also host a ?yappy hour? with special gifts for the celebrity guest?s furry companions.
Omics LIVE! BEAUTYtreat Retreat, a collaboration created by Sherri Scheck-Merrill & Omics LIVE! Career-Exploring Interns, will offer the following to guests: custom Hot & Ice Blended Drinks from The Coffee Bean & Tea Leaf, TONI&GUY Academy Costa Mesa/Santa Monica Braid Bar-Makeup-Nails, Dial M for Make-Up Lash Extensions and Cecilia Alcala Design Lash Bar. Guests will enjoy a wide variety of treats from POP! Gourmet Popcorn, Zico premium coconut water and Cupcake Sushi – Key West most unique and decadent new dessert. Chocolate fans will enjoy sampling gourmet treats from Chuao Chocolatier and Guylian, who will be offering champagne along with their Belgium chocolates.
One highlight of the Red Carpet Style Lounge is the luxury trips to be gifted to select celebrities. Alila Villas, crafted luxury in spectacular locations, will be gifting luxury stays in ocean front villas at their Uluwatu and Soori Indonesian properties with personal butler, spa services, dining and more. ITC Hotel Maurya New Delhi India will be gifting 8 nights in a Luxury Suite, airport transfers, luxury buffet breakfast, dinner each night and spa services. Brewery Gulch Inn in Mendocino California, Travel and Leisure's winner of World's Best Awards 2014, will gift a two night escape in a suite with breakfast and dinner daily featuring locally sourced ingredients prepared by their executive chef. Riviera Resort and Spa Palm Springs is gifting a two night stay in a 1-bedroom suite, dinner for two at Circa 59 and one 50 minute spa treatment at Spa Terre.
Guests will also enjoy exciting gifts from the following generous sponsors:
Hape – leading manufacturer of high quality bamboo and wooden toys

Pet Head fashion-forward line of pet products

WHILL – Next-gen personal mobility device

Philips Oral Healthcare – Philips and Ora Dentistry Spa's Dr Sam Saleh

FACTORY900 – The future eyewear

Toro Ride Inc. – LA's car service app for executive and luxury car service

Rago Shapewear – shape wear made in the USA "that really works"

Skineez Skincarewear – revolutionary shape wear infused w/skincare

St Kitts Tourism – intoxicating beauty, warm waters and white sandy beaches

Littlest Pet Shop – a toy franchise from Hasbro

Yatra Collection ? fashion forward india-inspired apparel and accessories

VANDA – Raising your energy with Tools for your Soul

Wiki Wags Disposables – disposable male dog wrap that ends potty accidents

Ashieda – reduce wrinkles and get glowing skin with best collagen drink

Schmoozies – stylish neckwear for pets

Epic Pet Health – natural electrolyte supplements for dogs and cats

Faucet Face – leading marketer of eco-friendly glass water bottles

Our Angels ? psychic Gloria Bieber doing aura photos & readings

Lunchboxbunch.com – boost your health with 365 Vegan Smoothies book
Guests will leave with a VIP gift bag full of products from:
Sir Richard's Condom Company – premium condoms free of harmful chemicals

OPI – nail lacquer and more

Bliss Beauty and Skincare – award-winning spa services and skin care

Villeroy & Boch – luxurious tableware from Europe

Kyjen – toys that keep dogs active

Mack & Jane – artisan leather cuffs

Mooney Farms – delicious California sun dried tomato snacks

My Monopoly – personalize your Monopoly board with My Monopoly

Omorose Cosmetics – making beauty yours with Omorose Cosmetics

ClifBar – snacks good for you and the planet

Pretty Woman – fashion-forward nail products from NYC

Kuzma Design – beaded embroidered statement cuffs

MD Complete – dermatologist skincare that delivers visible results

Murad – skincare products that transform your skin

Tooks International – headwear with built-in removable headphones

Audio Professionals Limited – high quality Italian earphones Tonino Lamborghini quantum

SunStyle Sunless – catwalk sunless collection

Justin's ? gourmet nut butter

Pjur Group Luxemburg S.A. – premium personal lubricants made in Germany

Chesapeake Bay Roasting Co. – organic sustainably roasted coffee

Ourlieu – stylish home wares for any place or space

CB-X – world leader in male chasity

Reisen Home Collection – luxury home fragrance products

Lubrisyn HA – all natural joint supplement

True Fabrications – essential tools for efficient bottle opening

JudyCakes LLC – old-fashioned pound cakes like Grandma baked

Miists Int'l Inc. – ultra slim sprays

KP! Toffee LLC – gourmet English toffee products

Original Gourmet – flavored lollipops & suckers

Atlantic Coast Media Group – iconic beauty brands
FOR MEDIA AND PRESS: to cover this event please contact amy(at)secretroomevents(dot)com
About the charities:
The Humane Society of the United States is the nation?s largest animal protection organization, rated the most effective by its peers. Since 1954, The HSUS has been fighting for the protection of all animals through advocacy, education and hands-on programs. We and our affiliates rescue and care for tens of thousands of animals each year, but our primary mission is to prevent cruelty before it occurs. The HSUS seeks a humane and sustainable world for all animals?a world that will also benefit people. The HSUS is America's mainstream force against cruelty, exploitation and neglect, as well as the most trusted voice extolling the human-animal bond. http://www.humanesociety.org/
The Shelter Pet Project is the result of a collaborative effort between two leading animal welfare groups, The Humane Society of the United States and Maddie?s Fund, and the leading producer of public service advertising (PSA) campaigns, The Ad Council. Their goal is to make shelters the first place potential adopters turn when looking to get a new pet, ensuring that all healthy and treatable pets find loving homes. The Shelter Pet Project does this by breaking down misconceptions surrounding shelter pets and communicating that ?A person is the best thing to happen to a shelter pet. Be that person. Adopt.? http://theshelterpetproject.org/
About Secret Room Events:
Secret Room Events produces Hollywood?s most talked about award show gift lounges, nominee gift bags and celebrity endorsement brand launches. For more information on becoming a sponsor please contact Amy Boatwright: amy(at)secretroomevents(dot)com.
Disclaimer: The Red Carpet Style Lounge is not affiliated with the Academy of Television Arts and Sciences or the Emmy Awards.