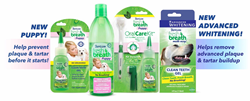 Wentzville, MO (PRWEB) December 03, 2014
According to the American Veterinary Dental Society, periodontal disease is the number one disease among dogs and cats. In 2010, TropiClean launched their Fresh Breath line of dental products that required no brushing and used all natural ingredients. Now TropiClean has launched their new Puppy line and Advanced Whitening with 3DMicroGuard? for all life stages of the pet.
?We know that starting good oral care habits young is one of the most effective ways to create lasting oral health for our dogs,? Derrik Kassebaum, VP of Sales, TropiClean. ?We all have pets in different life stages with different needs. Our hope is to provide the best products for every pet in whatever stage of life they are in. That?s why we created our new Puppy products and Advanced Whitening with 3DMicroGuard?,? said Kassebaum.
TropiClean says their new puppy line features products specifically formulated for this stage of your dogs? life including ingredients that help ?sooth minor gum irritation and address plaque and tartar before it starts?. The Advanced Whitening with 3DMicroGuard? works on the toughest cases, often found with senior pets. The products are set to hit shelves in late December and early January.
TropiClean has been innovating natural products in the pet industry for over 20 years. For information on TropiClean and the natural products they offer visit http://www.TropiClean.com or find them on Facebook and Twitter.
Related Dog Breath Press Releases