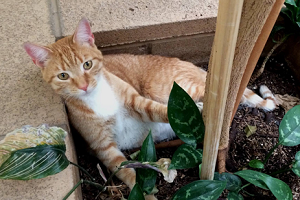 Cheryl Walls of Anderson, South Carolina never thought she'd see her cat Kevin again after he went missing more than a year ago. She was shocked when she received a call from an animal shelter in California that Kevin had been found – 2,000 miles away!
According to KESQ-TV, a woman driving a U-Haul cross-country was stopped at the Arizona –California border for a routine food and agriculture inspection.
The inspector heard meowing and discovered a skinny cat making a ruckus in the back. The driver of the van was as surprised as the inspector was that a cat had secretly hitched a ride with her.
The friendly cat was taken to the Coachella Valley Animal Campus, where workers were able to trace him to Walls, thanks to his microchip. Shelter employee Emily Huffman has been caring for Kevin since he arrived.
Click here to read the complete story.