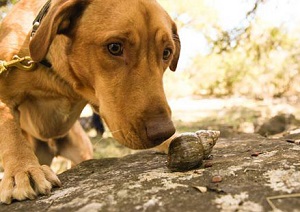 Not every dog who enters service dog training ends up helping people. Some dogs, like Darwin the Labrador Retriever, turn out to be better suited to helping the environment instead.
According to Fox News via the Associated Press, after Darwin was deemed too high energy to be an effective human service dog, Dogs for Conservation, a U.S. based organization that trains dogs to help with wildlife preservation initiatives, adopted him.
They also adopted a shelter dog, black lab Neville, and trained the duo for a new, critical environmental job. These two super sniffing pups are now using their skills to sniff out giant African land snails that are threatening crops in the Galapagos Islands in Ecuador.
The dogs were assigned a job on Santa Cruz, the most visited of the Galapagos Islands, to hunt the snail, the largest species of land snail, which can grow to up more than 7.5 inches long.
Click here to read the complete story.