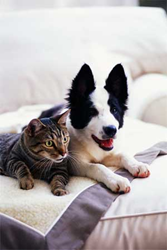 Austin, Tx (PRWEB) January 30, 2015
Both Wells Branch and South Branch Pet and Bird Clinics are using the symbolism of National Children?s Dental Health Month to remind pet owners that their dogs and cats need dental care too. Annually, the clinics have used the occasion to educate pet owners about the necessity of pet oral health and provide a 20% discount on pet teeth cleanings to encourage owners to bring their pets in for care.
Dental health is important for the millions of dogs and cats across the country. Just like in children and adults, gum disease and other oral problems are an indicator of possible future health problems. During a pet dental cleaning, the plaque and tartar on both the surface of the teeth and below the gum line are scaled and removed. The teeth will then be clean and the mouth free of infection, improving the quality of life for the pet.
Owners should regularly inspect their pet?s teeth to ensure none of the following conditions exist:


misaligned or missing teeth
discolored, broken or crooked teeth
yellowish-brown tartar crust along the gum line
red, swollen or bleeding gums
growths inside the mouth
excessive drooling
bad breath
If any of these conditions are found, owners should take their pet immediately to their veterinarian.
For more information or questions on pet dental health, contact the Pet and Bird Clinics of Austin.
Wells Branch Pet & Bird Clinic

12202 Mo-Pac Expressway

Austin, TX 78758

512-339-8472
South Branch Pet & Bird Clinic

403 E. Ben White Ste. F

Austin, TX 78704

512-462-0002