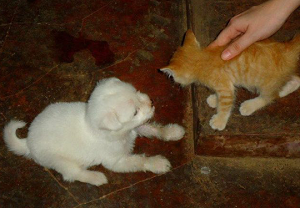 Sometimes when we're most in need, love can work miracles. That's what happened when Zekey, an extremely ill puppy, was nursed back to health by her best friend – a kitten named Sapphire.
According to Love Meow, Stephanie Tiu found Sapphire, a small, ginger-colored kitten in a garbage can.
Dirty and just a few weeks old, the little kitten captured Tiu's heart. She decided to keep him. "He was all muddy, but I fell in love with him," Tiu told Love Meow.
A week later, Tiu adopted a month-old puppy she named Zekey. The two babies bonded immediately and became best friends.
Click here to read the complete story.