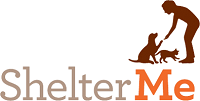 There are millions of pets in shelters waiting for homes and they need your help!
Even if you're not looking to adopt, you can give shelter pets an online presence with ShelterMe.com and help them find a home.
ShelterMe.com's goal is to increase the visibility of shelter pets. Do you have some basic Internet skills? You can help!
You can help a shelter pet get adopted in 6 easy steps. Watch this video to see how:
ShelterMe.com is founded by filmmaker Steven Latham and he is the creator of the Halo sponsored PBS series "Shelter Me" that celebrates shelter pets with positive and uplifting stories.