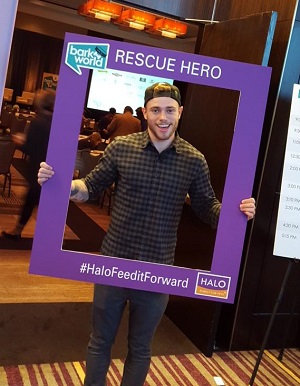 Gus Kenworthy, Freestyle Skier and Olympic Silver Medalist who arranged for the adoption of 5 Russian stray dogs to be transported back to the US during the 2014 Olympic Games in Sochi Russia, attended BarkWorld Expo 2015 this past weekend and helped feed a shelter pet through #HaloFeeditForward.
In addition to donating a meal for every #Barkworld registered attendee, Halo Pets had another way for pet bloggers and influencers to donate more meals.
During the social media conference, registered attendees were able to feed a shelter pet by taking a picture with our Rescue Hero frame and posting it online.
Thank you Gus for your commitment to pets and for bringing awareness about the stray dog population in Sochi.
For more information about our campaign, visit our #HaloFeeditForward page.