Earth Day is every day at Halo. We're thrilled to be working with Dave Carter on sourcing the highest quality and most earth/animal friendly proteins, seafood and vegetable ingredients in the world. Dave is a leader in connecting environmentally-committed farmers and ranchers to environmentally-committed brands.
Dave writes:
…we are increasingly aware that seemingly minute changes in temperatures and weather patterns are creating significant changes throughout the ecosystem. For example, the subtle increases in average temperatures are altering the types of grasses that naturally adapt to the rangelands across north America.

Read the rest of this article at: http://newhope.com/idea-xchange/now-time-move-climate-change
About Dave Carter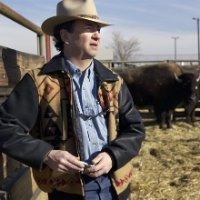 Dave Carter studied journalism at University of Northern Colorado but found his true calling working with farmers and ranchers at the Rocky Mountain Farmers Union for 25 years. He's now the executive director of the National Bison Association. Dave served as Chair of the USDA National Organic Standards Board during the implementation of the national organic regulations. Follow Dave at @bisondave.