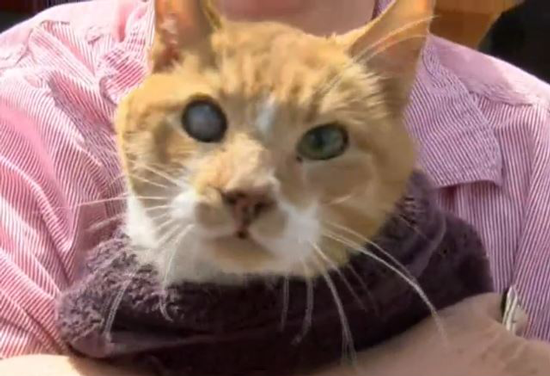 Fire is terrifying for anyone, but can be especially so for people worried about pets stuck inside their homes. Wilma Merril is grateful that when the worst happened and her home caught on fire, that her cat was rescued.
Wilma lost a great deal when her home in the Las Vegas Valley caught fire on September 22. According to NBC Las Vegas news, the fire began in an RV before spreading to the home due high winds. Almost 50 firefighters battled the flames on that dry day. The fire was intense and considered a two alarm fire. It took 8 engines, 2 trucks, 2 rescues, and an air resource unit to control the fire. While fighting the blaze, Clark County firefighters successfully rescued Wilma's cat.
Both of the human occupants were safe after the fire and grateful that everyone had made it out. Wilma cuddled her 24 year-old partially blind cat in a news broadcast, and her emotions are obvious when watching it. Her voice is choked up as she talks about her cat being rescued, "Seems so good to have something good come out of something so sad."
Wilma continued, "He's 24 years old. He doesn't see well. He doesn't hear well, but he knows how to get back to the couch." The orange cat, safe on Wilma's lap, seemed grateful that he had gotten back to his loving owner. We're grateful for the fire fighters who saved every life in that home.