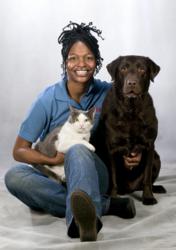 Philadelphia, Pennsylvania (PRWEB) January 15, 2013
In order to diminish the effects of the winter weather, Certified Pet Groomer and CEO of Avery?s Pet Styling Salon and Boutique, Taria Avery, suggests 3 basic tips for pet parents to get started with to help keep their fur-kids healthy and happy during the winter season.
1.) Brush or Comb Your Pet 2-3 Times a Week

Keeping your pet?s coat clear of knots and matts is as important as maintaining monthly baths. Using a brush is fine, but if your pet has long curly hair be sure to use a comb and take it all the way down to the skin. For some double coated dogs, excess oils can build up in their skin and may cause dry patches that may eventually contribute to hot spots if pet parents do not pay attention to their pet?s skincare regimen. On a double-coated dog, use a brush to remove the excess undercoat and to facilitate proper air circulation to the skin.
Cats require grooming too. Many cat owners believe their cats do a good enough job keeping clean, but they too need a thorough combing to help keep their skin and coat healthy.
2.) Set Aside 15 Minutes for Essential Care

In addition to brushing or combing, essential care includes clipping nails, brushing teeth, and cleaning out pet?s ears. This should be done about 1-3 times a week depending on your fur-kid?s specific needs. During the winter season, grooming nuances tend to get put off, but to keep pesky infections at bay it is critical to maintain essential care.
3.) Maintain Exercise Habits

Don?t let the blistering winter elements stop pets from getting the exercise they need. Pet parents can create in-house solutions to make sure their pets get the required exercise. For example, allowing pets to walk on treadmills is a great way to keep pets fit. But be sure to keep the treadmill on low speed, and discuss it with your Veterinarian before putting your pet on any exercising machine.
Avery understands pet grooming is just as important during the winter months as it is during the warmer seasons. Bitter cold conditions can have a harmful effect on a pet?s skin, coat and paw pads if not properly maintained. Unfortunately, pet parents may be tempted to skip out on winter grooming sessions assuming that allowing their pet?s fur to grow full is the best protection from intense winds and cold weather.
Lastly Avery says ?try to stick as closely to their normal grooming routine as possible. Make sure your fur-kid has access to fresh and clean water at all times, keep a space heater close by to provide additional warmth in the house if appropriate.? As the cold and snow set in, continue booking your regular grooming sessions, but use these tips to protect your fur-kid and supplement your existing maintenance schedule with your dog groomer or cat groomer.
More About Taria Avery of Avery's Pet Styling Salon & Boutique:

Clients know Taria Avery, a Certified Pet Groomer, as the ?Fur Therapist.? She is the President and CEO of Avery's Pet Styling Salon and Boutique, a state-of-the-art mobile grooming salon servicing the Greater Philadelphia metro area and southern New Jersey. She holds certifications in many key areas including CPR and first aid for animals, nutrition, animal behavior, aromatherapy, etc. Avery has been featured as a pet grooming expert for various media outlets including 6ABC News' TV program "FYI Philly", Philadelphia Magazine, Pet Product New International, Philadelphia CN8 Network "Your Morning" show, KYW NewsRadio 1060, The Philadelphia Tribune and Philly Fit magazine. Her discussion topics included the state of the pet industry, groomer certifications and tips for pet parents on selecting a groomer. Avery?s mission is to provide peace of mind for the pet parent by enhancing the health and wellness of their fur-kids with tender loving care.
Click here to watch Taria Avery on 6 ABC News' "FYI Philly".

[Click here to watch Taria Avery on CN8 Network's ?Your Morning Show?.
To contact Taria Avery for speaking engagements, advice columns or features please email taria(at)averyspetstyle.com.