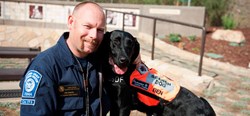 South Pasadena, CA (PRWEB) July 23, 2013
SearchDogsUSA Inc., official licensing arm of the National Disaster Search Dog Foundation (SDF), proudly announces the launch of http://www.shopSDF.com, a collection of fun and purposeful products for people and canines where sales proceeds support America?s search teams such as the ones deployed from Task Forces in Oklahoma, Nebraska, and California that searched for survivors after the tornados in Moore, OK last month.
"With some thoughtful new products, customers can have fun shopping and engage with us in our mission to deliver sustained revenue for SDF whose goal is to create 19 new search teams this year," said SearchDogsUSA President, David Kaplan.
Founded in 1996 and based in Ojai, CA, the Search Dog Foundation is a national 501(c)3 charity that strengthens disaster response in America by recruiting rescued dogs and partnering them with firefighters to find people buried alive in the wreckage of disasters. Given America?s shortage of qualified canine disaster search teams (currently some 75 teams exist nationally), SDF relies on charitable giving to create and train the teams ? done so at no cost to fire departments or taxpayers. The organization has had some 95 deployments since it began.
As part of SearchDogsUSA?s THE POWER OF THE PLEDGE? campaign, the private company with offices in South Pasadena, CA pledges to raise over $ 50,000 this year for SDF ? through sales from http://www.shopSDF.com and through Business Alliance Sponsorships.
shopSDF spotlights officially-licensed SDF Logo?d Apparel including t-shirts and hoodies, plus Accessories & Gifts, Dog Collars, Leashes & Restraints, Grooming/Care, Playtoys, Dog Health & Wellness Products, and Emergency Preparedness Gear. You?ll find some top name brands including The Nutro Company NATURAL CHOICE