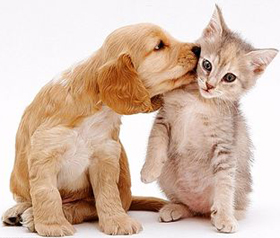 With National Holistic Pet Day upon us, I am reminded of this and another similar quote frequently attributed to Hippocrates: "Leave your drugs in the chemist's pot if you can heal the patient with food". As veterinarians, we all too often reach for medication when a pet is having a chronic problem.
It is at these times we should also be critically evaluating the content and quality of the diet a pet is being fed. While pet's do experience very real diseases that require conventional Western medicine, my experience as a veterinary internist has taught me the course of many chronic diseases can be changed by excellent natural nutritional choices.
There are many chronic conditions that can be nutritionally responsive. Let's look at a few examples:
• A simple change to a high protein-low carbohydrate diet for a cat suffering from diabetes may result in remission of diabetes.
• The addition of dietary fiber for a dog experiencing months of chronic diarrhea may result in significant improvement or even resolution.
• Home-cooking a novel protein and carbohydrate diet (something like salmon and quinoa) can improve the itchiness and digestive woes of a dog who has been suffering for months with food allergies.
• Supplementing vital omega 3 fatty acids can help improve dry flaky skin and itchiness.
High quality natural nutrition will not "fix" everything but it is a critical part of a holistic approach to pet healthcare and often has a profound positive effect on the way a pet feels. If your pet is suffering from a chronic ailment, speak to your veterinarian or a holistic veterinarian about this approach to nutrition as one treatment option.
Halo recognizes the holistic approach to pet health is focused on treating the "whole animal". While good nutrition is an essential element of overall well-being, Halo also knows providing your pet a chemical-free environment is also important. This approach drives Halo to develop all-natural products with ingredients chosen to give your pet a happier, healthier life. Extensive study and the input of nutritional experts are the backbone of our healthy dog and cat food, treat, nutritional supplements, and natural herbal grooming supplies.