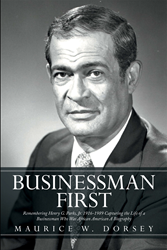 Washington, D.C. (PRWEB) May 11, 2014
Introducing the first African American business owner to issue stock on Wall Street: Henry G. Parks, Jr.
?Businessman First? by Maurice W. Dorsey captures the important achievements of ?Mr. Parks,? an African American manufacturing business owner who built his company to a multimillion-dollar level during the 1960s when racial inequality was especially prevalent.
?A business man who manufactures pork products is not viewed as glamorous,? Dorsey said. ?But Mr. Parks had a great vision, mission, goals, objectives, and more over, a great product.?
This new biography is an answer to the lack of recognition of Parks? journey to success in African American history. A joint project between the author and the subject prior to his death, ?Businessman First? highlights the strategy, dedication and perseverance Mr. Parks orchestrated to build his company from the ground up.
The multi-generational friendship between these two African American men influenced the author?s own successful career in government and education. Dorsey?s 16-year friendship with Parks emphasizes the need for strong African American leaders to mentor youth today.
?Though there was a three-decade difference in our ages, we built an almost inseparable friendship,? Dorsey said. ?He was ending a career and I was starting one- the likelihood of Mr. Parks and I meeting was orchestrated by the universe.?
Businessman First by Maurice W. Dorsey

Hardcover, $ 29.99

Paperback, $ 19.99

e-Book, $ 3.99

ISBN: 978-1-49311-478-8

Available at amazon.com, barnesandnoble.com and bookstore.xlibris.com
About the Author
Maurice W. Dorsey graduated as the only African American in his class at the Bel Air Senior High School, Bel Air, Md., in 1965. He earned a Bachelor of Science degree in home economics from the University of Maryland and a master?s degree in liberal arts from the Johns Hopkins University. He also earned a second master?s degree in education from the Loyola College of Maryland. Dorsey returned to the University of Maryland to earn a doctorate in education in 1985. He has worked in both the public and private sectors, finding his career in secondary education, higher education, and government. Dorsey retired from the United States Department of Agriculture National Institute of Food and Agriculture in 2012. He resides in Washington, D.C.