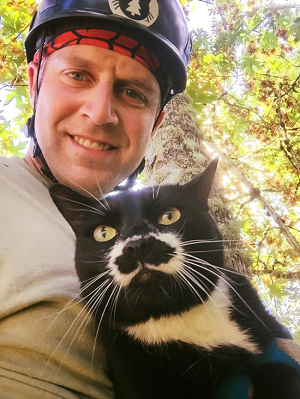 Pet lovers will do pretty much anything to help animals in need. One man in Washington state has made a career out of rescuing cats stuck in trees!
According to ABC News, professional tree climber Shaun Sears operates Canopy Cat Rescue, based in North Bend, Wash.
The non-profit organization comes to the rescue when other organizations aren't able to assist.
In Washington trees can grow extremely tall, which means cats getting stuck in very high places where they're unable to get down is common. In fact, Sears says they've made 325 rescues in 2015 alone.
The work is challenging and dangerous. Scared cats have a tendency to climb even higher, even when Sears is trying to help.
A recent cat named Baby got stuck in a fir tree, prompting her owners to call Sears. Baby started her ordeal at 40 feet up and ended up 110 feet high in the tree before Sears was able to get a hold of her and bring her down safely!
Click here to read the complete story.