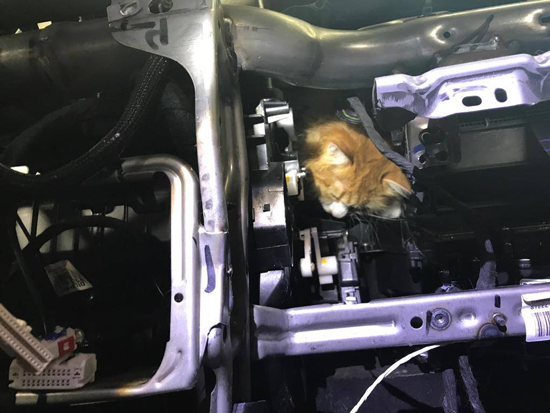 We all know the old cliché about calling the fire department when a cat is stuck in a tree. Well, who does the fire department call about a cat stuck – in a car? In the case of the Albany Fire Department in Oregon, they called a local mechanic!
On April 12, the Albany Fire Department Facebook page shared a post from a local car dealer and repair shop, adding "Thank you Mark Thomas Motors for stepping up today and answering our call. We appreciate you." The photos showed mechanics working on the dashboard of a car, a cat apparently stuck in that dashboard, and the same orange cat secured safely in a carrier.
According to The Oregonian, the previous night the cat's home caught fire. To keep their three cats safely contained, the owners had placed them in their SUV. Unfortunately, the orange cat tried to hide from the sirens. According to a comment from his owner on Facebook, the "fire trucks really scared him." The cat managed to scramble inside the car's dashboard! By the next morning, it was clear that the cat was stuck and in need of assistance. That's when the fire department called the mechanics. The SUV was taken to the garage and Mark Patrizik, the shop's general manager, took a look. "You could see his head, but he couldn't move – he couldn't even look at ya," Mark told The Oregonian. Mark decided that the best course of action was to take the dashboard apart.