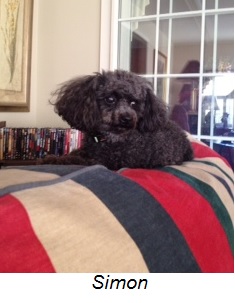 We love receiving letters and pictures telling us how your pets are doing. Here's a letter we received from Evie Deaton that we thought you'd love, too!
Dear Halo
I had to write to you because I am so happy and almost in disbelief. I have a 4 1/2 year old 5.2 pound toy poodle. I live in a small town and the best food I could find for him was [store brand] for small and toy breeds. He would eat this food and I thought he was getting enough. However, I did throw a great deal away because he did not eat it and I like to keep fresh food out. He was always licking his feet, always (about every 3 months) having some type of digestion problem and I had to take him to the vet to get injections and put on antibiotics.
Also, he is black but coat was not as bright and shiny as I felt it should have been. I asked my vet (he really is great) if he thought maybe food allergies and he just did not feel strongly that that was a problem. After seeing my baby just not as healthy as I felt he should be I went to PETCO and searched myself for the best food I felt for him.
After looking for an hour at least, I found HALO, Spot's Stew Chicken (dry) food for toy breed. It was unreal. I brought it for him, slowly mixing in with old food and he began only eating the HALO. I started feeding him total of about 1/3 to 1/2 cup daily, moistened with little warm water and he literally licks the bowl. I have never seen him eat like this. His coat has changed, he is dark black, shiny, hair that had come out of back of legs from licking has grown back, his eyes are brighter, his stool is normal, he has not had a single digestive problem since starting the HALO, and I have not had to throw one ounce away.
Thank you for making a wonderful product. My dog is my baby. I am 50, have no children. I am happy when I know he is feeling great. I feel so guilty knowing that he went too long without this but now he has the best.
Thank you, thank you, thank you,
Evie Deaton
Thank you Evie for sharing your story with us and we are so happy to hear that little Simon is doing so well!