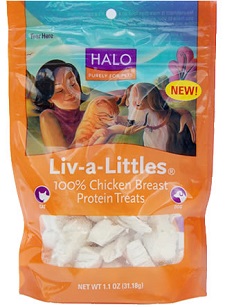 Halo Facebook Fan, Nikki Mo, wrote to us about her Halo experience with our natural cat food and treats. Here's what she wrote:
"I'm a huge fan of your food! I work at Petco in West Covina and have two cats that I rescued about 2 years ago. I have only fed them Halo and I recommend it to my customers every day. I recently got them some liver treats and they LOVED them. So much that when we were at work my cats found the treat bag, ripped it open and eat All the treats! We came home to treat crumbs all throughout the house. Keep doing great things for pets and people!"
Thank you Nikki for choosing Halo and spreading the word about our holistic cat food. We hope your two cats live a long and healthy life!