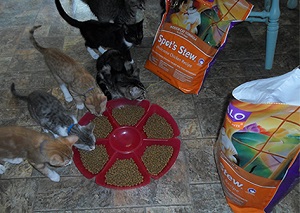 At one of the nation's largest cat rescues, the Cat House on the Kings, more than 700 cats live peacefully on 12-acres of beautiful, safe land in Parlier, Calif.
This cage-free, no-kill, lifetime sanctuary was founded in 1992 and has saved more than 24,000 cats and 7,000 dogs, plus spayed or neutered another 40,000.
Freekibble.com and Halo are proud to make regular, bi-monthly donations to The Cat House on the Kings to help support their rescue efforts.
Click here to read the complete story.